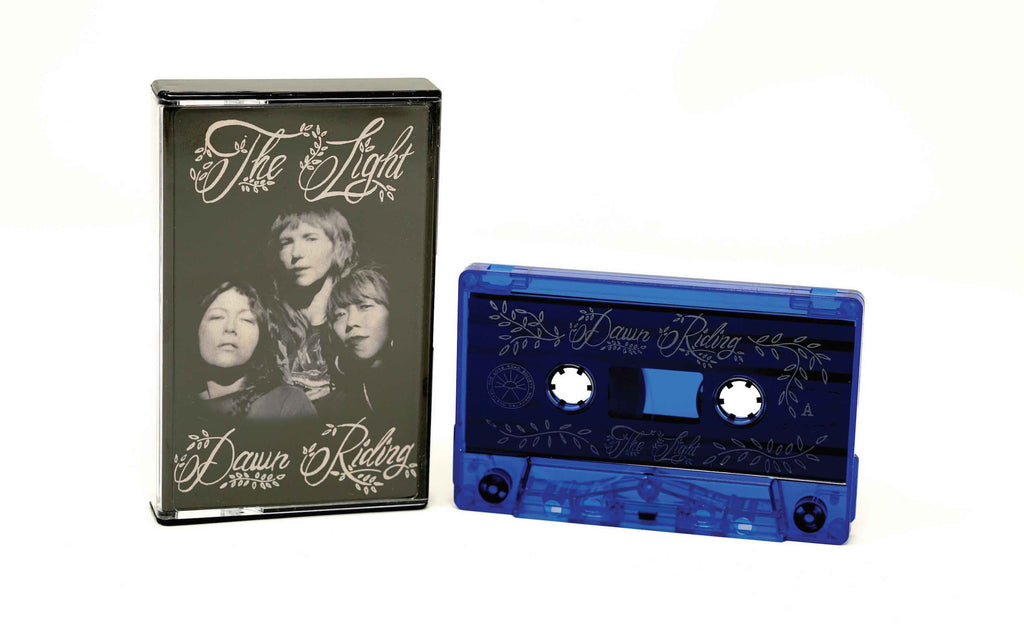 Dawn Riding - "The Light" (Cassette / Digital)
$10.00
"The Light" is a 33 minute long, drama-noir love story – one that you may stay up too late reading, captivated by the characters, their struggles, and the rugged beauty that always seems to shine through. The seven tracks that make up Dawn Riding's sophomore release ride the same mid-fi, hypnotic wave as their debut, with an ever-growing commitment to telling honest and personal stories, highlighting the beauty, comedy, and euphoria in even the toughest days. Sarah Rose's songwriting seamlessly shifts between Louisiana thrift stores and south Missouri corn fields, from memories of tea in a dusty attic to dreams of a rocking chair on a future lover's front porch. While the content of "The Light" is not for the weak of heart – there are lives lost, battles with addiction, & anxiety-riddled memories – the album is not melancholy & dark; it is instead strong & hopeful, with an undeniable undercurrent of love. The bed of music created by the trio carries each song's message with the subtle, fierce tone it demands – tough lead guitar lines, driving drums, and beautiful, tenuous harmonies. "The Light" will shake you into the present, pushing you to take stock of your good fortune, honor your ghosts, and love like there's no tomorrow.
Dawn Riding is Sarah Rose Janko (lead vocal/acoustic guitar), Hall McCann (harmony vocal/electric guitar), Jasmyn Wong (drums). All songs are written by Sarah Rose Janko except for "Telling Takes Me Home", written by Utah Phillips. Recorded at Long Road Studios (Oakland, CA) by Jason Cirimele (tracks 1-3, 5-7), and Kit Center (track 4). Mixed by Jason Cirimele and mastered by Carl Saff (Saff Mastering). Additional instrumentation by Jason Cirimele (bass).
"The Light" released on June 25th, 2021 digitally and on limited-edition cassette. Cassette order comes with digital download to listen to immediately!